The cryptocurrency market continues to teeter around the same level. At $945 billion, its total cap is down slightly — by 0.7% — in the past 24 hours. It has also declined by 29% in a month and by 46% in 60 days, marking a very difficult period for crypto and the global economy as a whole. Most major coins are going through a similarly difficult phase, although some have bucked recent trends to post gains. This article combines some of the best-performing and most-undervalued coins into a list of the 5 next cryptocurrency to explode.
5 Next Cryptocurrency to Explode
1. Bitcoin (BTC)
BTC is $20,238 this morning, marking a 1.5% rise in the past 24 hours. It is, however, basically flat in the past week and down by 32% in the last 30 days.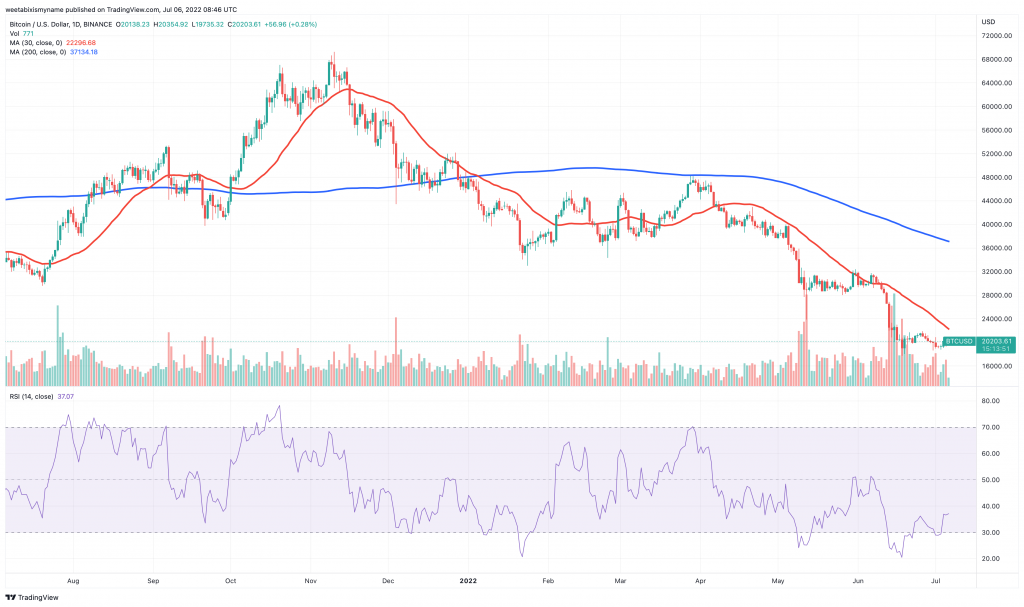 BTC's indicators show that it's at a very low ebb. On technicals alone, it's due a big rebound anytime soon, even if economic circumstances are undermining any recovery right now.
Indeed, other indicators suggest that now is a great time to buy bitcoin. This includes the stock-to-flow and realised price indicators. Of course, as Crypto Twitter personality PlanB suggests, there's an outside chance there's been some kind of "structural break" with the cryptocurrency's market previous history. Namely, it hasn't found itself in a serious recession before, something which now looks like a real prospect.
All indicators at extreme levels (S2F, 200WMA, RSI, Realized price etc).
– generational buying opportunity?
– or "this time it's different": structural break with last 13 years? pic.twitter.com/ZqONFs34fE

— PlanB (@100trillionUSD) July 2, 2022
Still, BTC is the best-placed cryptocurrency to surge at some point in the future. As with previous bull markets, it will initiate and lead any future bull market. It continues to command more institutional investment than any other coin, as well as attract more ownership in countries with severe inflation problems. This is why we've highlighted it as one of our 5 next cryptocurrency to explode.
2. The Sandbox (SAND)
At $1.26, SAND is up by nearly 10% in the last 24 hours. It's also risen by 16% in a week and by 38% in a fortnight, but has lost 3% in a month.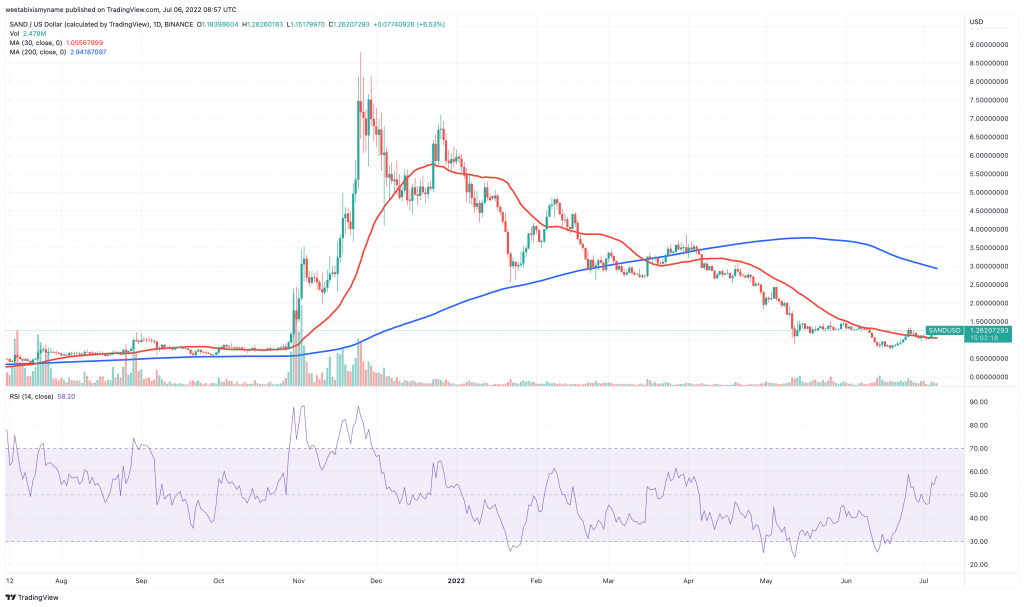 SAND is one of the few major coins rising during a difficult time for the market. Its relative strength index (in purple) has risen to 60, indicating good momentum. It's likely that its 30-day moving average (in red) will begin moving towards its 200-day average (in blue), potentially forming a 'golden cross' that would signal a rally.
One of the main reasons SAND is rallying right now is that the Sandbox has opened a bridge to layer-two platform Polygon. This enables Sandbox users to transfer LAND non-fungible tokens and SAND to (and on) Polygon, thereby lowering their costs and increasing efficiency.
🌉 We are ready to deploy LAND to @0xPolygon 🌉

🔸Each LAND bridged grants a 10 mSAND cashback!
🔸LAND multipliers on both mSAND staking programs are back!
🔸LAND sales and LAND staking features (on Polygon) are coming soon!

BRIDGE NOW ➡️ https://t.co/jlcSKxuBWh pic.twitter.com/1tuAAsqEZP

— The Sandbox (@TheSandboxGame) June 28, 2022
This will reduce friction on the gaming/metaverse platform, in the process drawing in more users. On top of this, the Sandbox has witnessed plenty of high-profile activity on its gaming/metaverse platform. Most notably, hardware wallet manufacturer Ledger announced it had chosen the Sandbox as its first ever virtual location in the metaverse. This is yet another endorsement of the platform, which has also partnered with TIME Magazine and Lionsgate in recent weeks.
Welcome the LedgerVerse to @TheSandboxGame: Ledger's first step into the metaverse and the first to turn gaming into Web3 education. 🎮

Conquer quests, fight off scammers and win Web3 rewards. 🥇

Master crypto security.

Learn. Play. Earn. Coming summer 2022. pic.twitter.com/56kS9FLZK6

— Ledger (@Ledger) June 22, 2022
It's worth remembering that the Sandbox racked up around $350 million in sales of virtual land in 2021, more than any other similar platform. This highlights its potential, and also why we've included it among our 5 next cryptocurrency to explode.
3. Ripple (XRP)
XRP is $0.323839 today, representing a 0.5% increase in the past 24 hours. It's down by 4% in a week, by 18% in a month, and 50% in a year.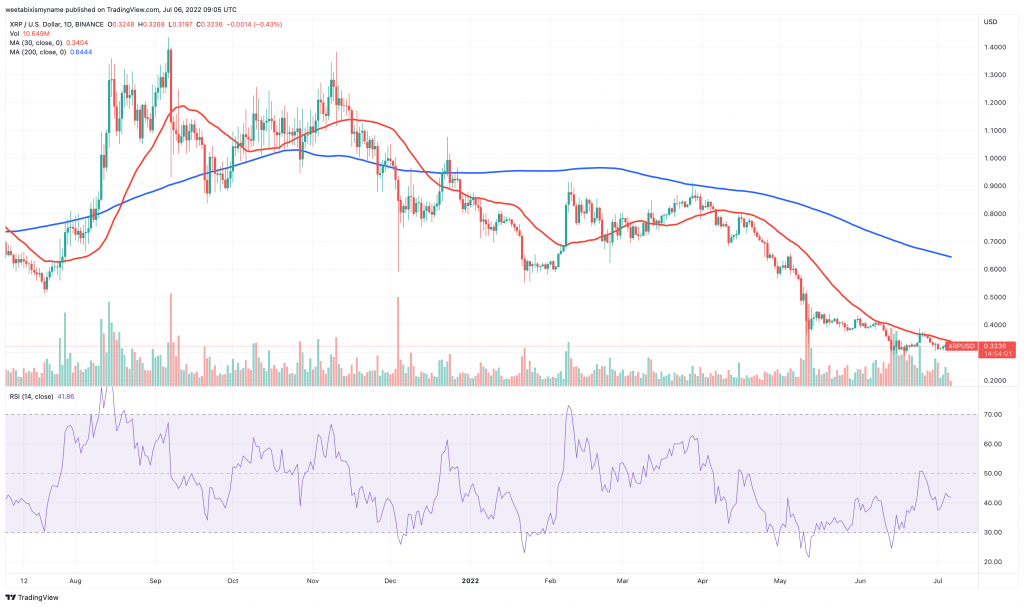 The market is grossly undervaluing XRP at the moment, as highlighted by its low RSI and 30-day average. That said, its RSI has crept up in the past week or so, possibly in anticipation of a decision which is due in Ripple's ongoing case with the SEC.
I think Judge Netburn will rule on the Hinman emails this week mainly because motions to strike expert witnesses are due next week Tuesday.

Speaking of which, looking forward to Ripple's motion to strike the expert report of Mr. Doody. It should be a Doozy! https://t.co/AakQggD7nC

— Jeremy Hogan (@attorneyjeremy1) July 5, 2022
Basically, Ripple is waiting for Judge Netburn to decide whether emails related to an SEC speech fall under client-attorney confidentiality privileges. If they don't, this will be a big boost for Ripple and its case. It will increase the chances of Ripple gaining a favourable outcome, and could speed up the case's progress.
As things stand, all final briefs are due by December of this year, with a final decision or settlement likely following in early 2023. However, hope is now building that the expected decisions could accelerate things. Either way, Ripple's case has been gathering in strength over the past few months, and it does secure a good outcome, XRP will almost certainly explode.
4. eCash (XEC)
At $0.00004453, XEC is up by 13% in the last 24 hours. It has also gained 12% in a week and 16% in a fortnight, but is down by 8 in a month.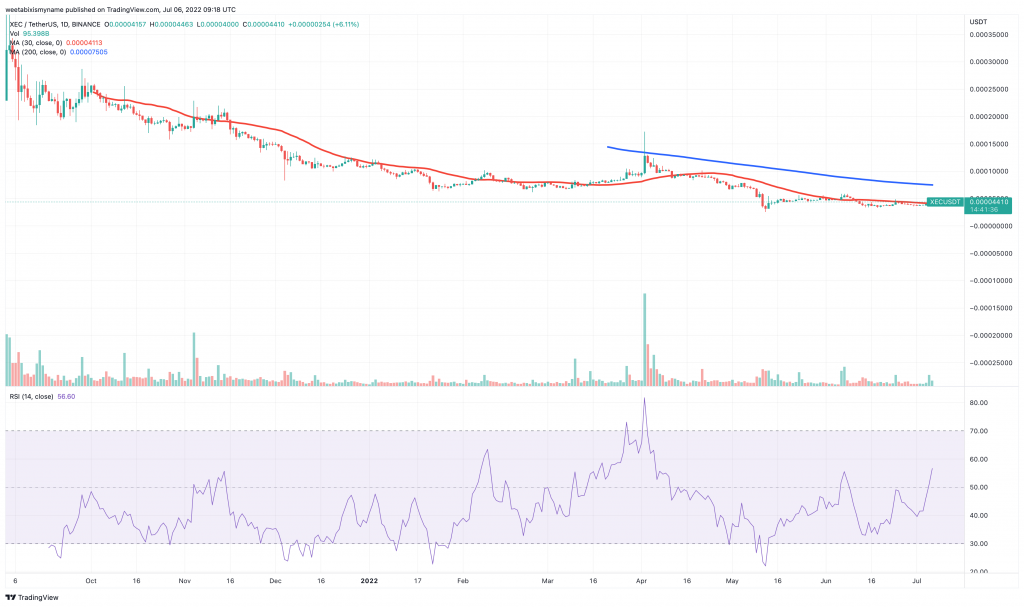 XEC is clearly on an upswing, with its RSI heading to 60. Of course, with volatile market conditions, it's not certain how long its currently rally could last, even if it had been overdue.
For the uninitiated, eCash (XEC) is a rebranded version of Bitcoin Cash ABC (BCHA), which itself was a fork of Bitcoin Cash (which is a fork of Bitcoin). It has been rising recently largely because it's compensating for previous steep falls. Another boost is the fact that it has witnessed a number of exchange listings and upgrades in the past month or so.
This includes KuCoin enabling XEC deposits and withdrawals in early June. It also includes Binance adding the altcoin to its Binance Earn service, enabling depositors to earn interest on their XEC.
#Binance has just added $XEC to Binance Earn 👏

You can now earn interest on your #eCash deposit and withdraw at any time! 💯

Step by step we move forward 💪 pic.twitter.com/BTkTz3zrqX

— XEC Mass (@xecmass) July 5, 2022
Such developments are a big part of the reason why we can expect XEC to continue rising in the near future. They're also why it's among our 5 next cryptocurrency to explode.
5. Evmos (EVMOS)
EVMOS has gained by 16% in the past 24 hours, reaching $2.63. It has also risen by 41% in a week and by 73% in a fortnight.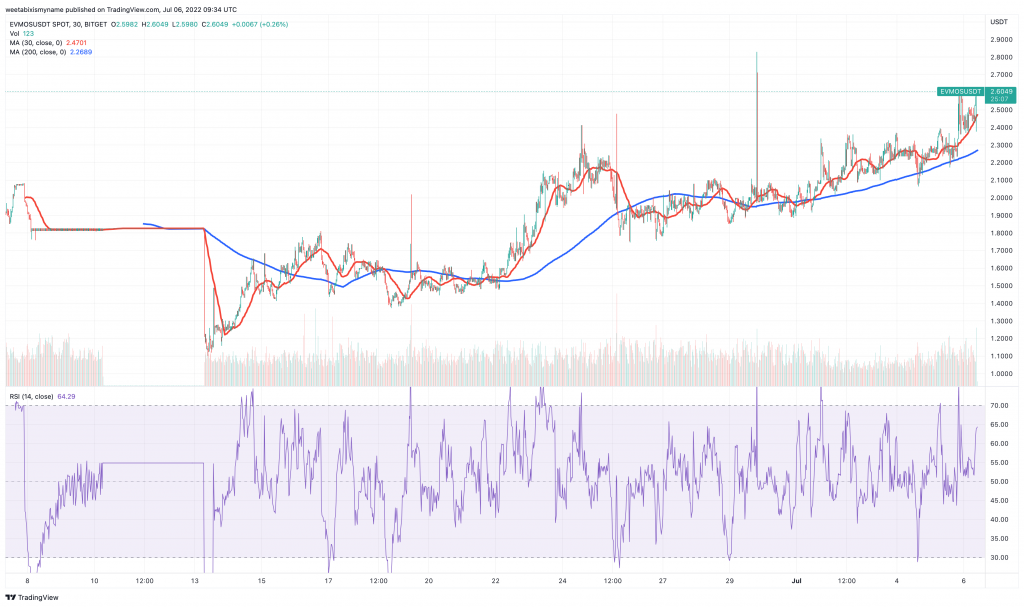 Launched only at the end of April, EVMOS is one of the newest coins in the top-1oo cryptocurrencies by market cap. It's the native token of Evmos, an Ethereum-compatible side-chain for Cosmos. Put simply, it's a way of bridging Cosmos with Ethereum and having Ethereum dapps on Cosmos.
As such, it has grown in importance for Cosmos over the past few weeks. This was helped by the deployment of its v6 upgrade, which will improve efficiency in various ways and increase compatibility with certain wallets (e.g. MetaMask).
Your capital is at risk.
Read more: